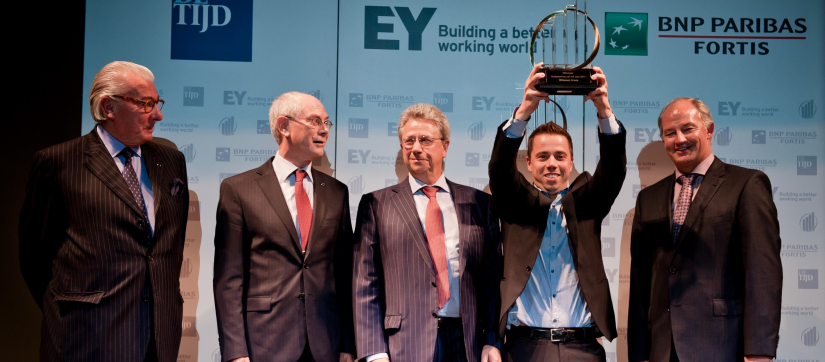 Entrepreneur of the Year 2013
Tuesday 8 October 2013 was a special day for Willemen Groep. This was the day that we were declared 'Entrepreneur of the Year' in Auditorium 2000 at the Heizel, and were awarded the prize by European President Herman Van Rompuy.
That evening Willemen Groep joined the group of prominent ex-winners such as Soudal, Omega Pharma and Studio 100. The moment Herman Van Rompuy announced our company as winner is one that won't be forgotten. It was the first time this prestigious honour was given to a company active in the construction sector. Thus, our sector finally received the recognition it deserves. In the first place, however, this title is a recognition of the work of each employee and each company within Willemen Groep.
'Entrepreneur of the Year' is organised by EY in partnership with De Tijd and BNP Paribas Fortis.
We are extremely proud of this distinction. It is a token of appreciation for the work of all companies within Willemen Groep and all of our employees.
Pie and pastries for all of our employees
The title 'Entrepreneur of the Year' is in the first place a recognition of all the employees of Willemen Groep. Consequently, one day after the selection, we had a tasty surprise in store for all of our 2,000 employees.
With the help of La Lorraine Bakery Group, winner of 'Entrepreneur of the Year 2012', pie was delivered to all offices and éclairs to all construction sites. A total of no less than 80 pies and 2,500 éclairs were delivered to all 20 of the group's offices and the 139 construction sites located throughout the country. A treat that was appreciated by our employees, as evidenced by the photos we received during the day.
 
Congratulations
In addition to the many flowers and cards we received, Willemen Groep also received many congratulatory  messages via social media. Many of our employees and colleagues and many famous compatriots tweeted concerning our award as 'Entrepreneur of the Year 2013'.