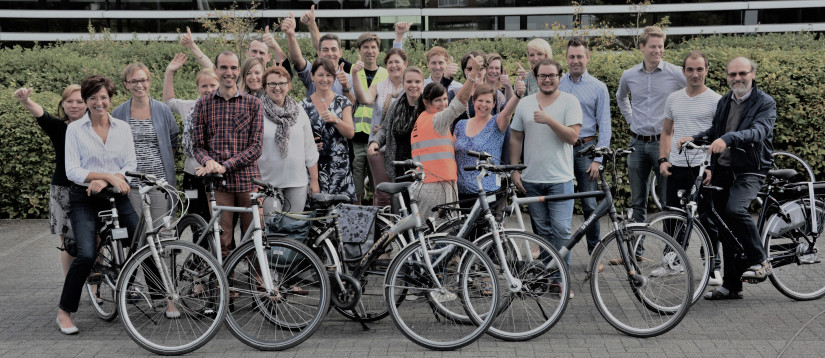 corporate social responsibility
Respect is one of WILLEMEN GROEP's company values. For this reason we believe it is important to take up our social responsibility as a group. We translate this into respect for People, Society and the Environment. Below are some examples of how Willemen Groep commits itself to its social responsibility. 
Our people are our most important capital. They represent the company and promote our values. This is why the creation of a pleasant workplace for our people is so high on our agenda. We do this in various ways:
• Health:  the use of drugs, and with this we mean both legal and illegal stimulants, is not compatible with our company's mission. Willemen Groep's 'Drugsbeleid Reactiewijzer' (Drugs policy guidelines) should be seen in this light.  When an employee has problems, the group provides discrete and diversified support. An intervention plan has been drawn up aimed at prevention, detection, support and possibly penalisation. A number of our company sites have been completely smoke-free since July 2017.

• Corporate social recruitment:  on the one hand, by actively investing in reactivating the long-term unemployed, which is why  a number of our companies are certified as deployment firms. And on the other hand, by believing a non-discrimination hiring policy goes without saying.  The best candidate gets the job, regardless of sex, race, ethnic descent, religion or conviction, disability, age or sexual orientation.
• GO FOR ZERO: safety is a top priority for Willemen Groep. Not just in the performance of the job, but also during your commute from and to work. Every accident is one too many, which is why the group invests heavily in training days and traffic safety campaigns.
 
Willemen Groep wants to build a better world and where better than to start with ourselves. We believe it is important to support associations and initiatives that promote the same purpose. Below are some examples.
• Entrepreneurs for Entrepreneurs: we have contributed to a sustainable collaboration with the South for years through the support of this organisation. And have thus contributed to a better water management in developing countries, among other things.  Willemen Groep is currently supporting a project in the East-Congolese Ituri.  The aim of the project is to provide high-quality drinking water to 10,000 new people by 2018 and to offer clean sanitary infrastructure to 1,000 students. Furthermore, 10 new water kiosks will be built, which will considerably raise the quality of the water supply and ultimately improve the local population's health.
• Cedric Willemen Award: an annual award in memory of Cedric Willemen awarded to promising AV artists. The winner receives an amount of EUR 2,500 and is supported by Mechelen-based Arts centre nOna. The aim of the award is to encourage young talent and to offer them an opportunity to develop further.
• Local initiatives: Willemen Groep's roots are in Mechelen. This is why we find it important to support initiatives that will help turn Mechelen into a better city. Through partnerships, the group supports associations and cultural events in the city, as well as a number of sports clubs.
• Sustainable Development Goals: towards the end of 2015, 193 world leaders supported the Sustainable Development Summit of the United Nations. The centrepiece of that agreement is a set of 17 sustainable development goals that need to be achieved by 2030. Willemen Groep contributed to the design of the Belgian chapter of the goals and was one of the first companies to accept this engagement. Our achievements have received a positive evaluation and we were rewarded with the Voka Sustainable Business Charter (VCDO). Sustainable business is one of the spearheads of the group's policy and we will continue to focus on this.
Care for the environment is a responsibility every individual, company and society as a whole needs to assume. Willemen Groep also wants to contribute by helping to build a liveable world for future generations. The group's policy is aimed at controlling and reducing the effect of our activities on the environment. Below is a list of some of our initiatives.
• Environmental management:  a number of years ago Willemen Groep was one of the first construction companies with an ISO 14001 certificate. We believe it is our responsibility to contribute to a sustainable, qualitative society and world through our professional endeavours.
• Bee hives: bee populations in our region are not doing well, whereas the honeybee is essential for our ecosystem. This is why we installed two bee hives at our head office.
• Hybrid battery packs: Willemen Groep uses hybrid battery packs at many of its sites. Hybrid battery packs are standard generators that store their excess energy in an external battery. This battery continuously releases electricity and only starts the generator in case of high demand. The consequence is not only increased energy efficiency, but also lower CO2 emissions, less soot formation and no unnecessary noise pollution by the generator.
• Own asphalt production plants: through Aswebo and Aannemingen Van Wellen, the group has its own asphalt production plants which are also COPRO-certified. The in-company asphalt mixing installations allow the group to lay down the requirements for its installations. This ensures our installations meet the strictest requirements in terms of noise, odour nuisance, soil and air emissions.
• Mobility: Willemen Groep encourages its employees to come to work by bike as much as possible. The group has taken part in the Car Free Day since the start and makes company bicycles freely available to employees. Employees who take the bike to work receive a bicycle allowance, even if they have a company car. And since a few years the list of company cars has eco-friendly alternatives in every category.
 
Degelijk onderwijs is een essentiële voorwaarde tot het verbeteren van mensen hun levensstandaarden en om te kunnen bouwen aan een duurzame samenleving. Op te veel plekken ter wereld is onderwijs nog steeds een privilege. In veel landen vertaalt dit zich zelfs in een mannenprivilege, want vrouwen worden proportioneel vaker de toegang tot onderwijsinstellingen ontzegd. Dit is een mistoestand die dringend de wereld uit moet. Onze groep hecht ontzettend veel belang aan het continu leren en dit zonder enige vorm van discriminatie.
Youca: Youth for Change and Action – de vroegere Zuiddag – is een organisatie voor en door jongeren die hen stimuleert om samen te werken aan een duurzame en rechtvaardige samenleving. Tijdens de Youca-dag gaan ongeveer 15.000 middelbare schoolstudenten tussen 15 en 18 jaar aan de slag bij bedrijven. Hun dagloon gaat naar projecten ter ondersteuning van jongeren in het buitenland. Willemen Groep vult die dag met plezier een heel aantal vacatures in om Youca te steunen.
Willemen Academy: Willemen Groep wil haar medewerkers alle kansen bieden om zich verder te kunnen ontplooien. Daarom riepen we in 2012 Willemen Academy in het leven om zo een intern opleidingsinstituut te kunnen bieden aan ons personeel. We willen het maximale potentieel uit onze medewerkers naar boven halen en hen laten meegroeien met het bedrijf. Via de Academy krijgen ze de mogelijkheid een tweejarige Masterclass of Advanced Masterclass te volgen.
Cedric Willemen Award: Jaarlijks reikt Willemen Groep, in samenwerking met Contour en kunstencentrum nOna, een award uit aan een beloftevolle jonge audiovisuele kunstenaar. De winnaar van de award ontvangt een geldprijs en krijgt verdere begeleiding door nOna. Op die manier willen we jonge filmmakers stimuleren om zich verder te ontplooien.
"Kansen geven aan jong talent en hen helpen ontplooien is een kernwaarde in de bedrijfscultuur van Willemen Groep."
Communicatieverantwoordelijke
We moeten dringend maatregelen nemen ter bevordering van ons klimaat. Onze planeet kreunt onder vervuiling en verontreiniging. Dieren en planten hebben het moeilijk en er verdwijnen steeds meer soorten aan een snel tempo. Overal ter wereld dringen investeringen in duurzame energie en in groenere infrastructuur zich op. Er is een mentaliteitswisseling nodig om levensstijlen en bijhorende consumptiepatronen bewuster te organiseren. Dit is een globaal thema waar we enkel het verschil kunnen maken wanneer globaal het besef groeit dat we duurzamer met onze planeet moeten omspringen.
Willemen Groep is zich al lange tijd bewust van bovenstaande problematieken en tracht door middel van een hele reeks initiatieven, waar mogelijk, het verschil te maken.
Hybride battery packs: Op onze werven maken we steeds vaker gebruik van hybride battery packs om bewuster om te gaan met overtollige energie. Die slagen we op met een generator (of hybride battery pack) in een externe batterij. De batterij staat voortdurend stroom af en start de generator enkel op bij een hoge stroomvraag. Zo springen we efficiënter om met energie, genereren we minder CO2-uitstoot dan bij een dieselgenerator en ondervindt de omgeving minder geluidsoverlast.

Milieumanagement: Veel van de acties die Willemen Groep neemt rond milieu kaderen in het milieumanagementsysteem ISO14001. Dit is een reeks van internationale, vrijwillige milieumanagement standaarden, normen en gidsen om bedrijven een kader aan te bieden om hun milieumanagement beter te organiseren.

BREEAM: Dit staat voor Building Research Establishment Environmental Assesment Method. Het is een methode, ontwikkeld door het Britse BRE, om op objectieve wijze de duurzaamheid van bouwprojecten te evalueren en quoteren. Willemen Groep levert steeds meer gebouwen met een BREEAM-certificaat van 'Very good' tot 'Excellent' op. Een van die opgeleverde bouwwerken is Campus Zuid van Karel de Grote Hogeschool in Antwerpen. Dit was tegelijkertijd het eerste schoolgebouw in Vlaanderen met dit certificaat. Ook de Belgische ambassade in de Marokkaanse hoofdstad Rabat zal dit label dragen.
 
Passieve gebouwen: Willemen Groep blijft bouwen aan haar expertise in de passiefbouw. Passieve gebouwen zijn heel energiezuinige bouwwerken die een optimaal zomer- en wintercomfort bieden. De energievraag van dit soort gebouwen is heel laag, maar de bouw ervan vergt heel wat expertise. Enkele voorbeelden van passiefbouw binnen Willemen Groep zijn de Astrotoren, de Belgische ambassade in Kinshasa en het sportcentrum Nelson Mandela in Neder-Over-Heembeek.

Eigen asfaltproductieplants: Willemen Groep beschikt over vijf asfaltproductieplants die de laatste jaren allemaal op gas zijn overgeschakeld. Als groep vinden we het heel belangrijk om onze impact op de omgeving tot een minimum te bepreken. Daarom voldoen onze installaties aan de strengste eisen op vlak van geluid, geurhinder en de emissie naar bodem en lucht.  Aswebo was daarenboven het eerste bedrijf in België met de AVT-erkenning. AVT staat voor 'Asfalt Verlaagde Temperatuur' en is een milieuvriendelijkere variant op standaard asfalt, omdat de productie ervan op een lagere temperatuur gebeurt.
Bijenkasten: Het gaat niet goed met de bijenpopulaties in onze contreien. Die gaan tegenwoordig zienderogen achteruit: de voorbije jaren stierf gemiddeld 30% van de honingbijen. Terwijl de honingbij essentieel is om ons ecosysteem en de biodiversiteit in stand te houden. Als maatschappelijk verantwoorde speler heeft Willemen Groep daarom twee bijenkasten aan het hoofdkantoor laten plaatsen.
Car Free Day: Sinds enkele jaren is het een jaarlijkse traditie om deel te nemen aan de Car Free Day. Tijdens de dag stimuleren we zoveel mogelijk medewerkers om hun auto thuis te laten en te kiezen voor alternatieve vervoerswijzen: met de fiets, te voet, met het openbaar vervoer of al carpoolend. Als beloning voor hun inspanningen verwennen we het personeel onder andere met een gezonde lunch.

Groene vervoersmiddelen: Voor vergaderingen nabij de werkplek of korte verplaatsingen tijdens de middag kunnen de medewerkers gebruik maken van twee bedrijfsfietsen. De medewerkers met recht op een bedrijfswagen kunnen kiezen voor milieuvriendelijkere alternatieven: er zijn tegenwoordig hybride en CNG-wagens beschikbaar in ons wagenpark. Wie een bedrijfsvoertuig ter beschikking heeft, blijven we ook aansporen om regelmatig de fiets te nemen. Dit doen we door hen een kilometervergoeding aan te bieden als ze hun wagen in de garage laten.

Zonder partners is het niet mogelijk om veranderingen te verwezenlijken op globaal niveau. We zetten graag onze partners op een rij die het mogelijk maken dat onze groep kan helpen bouwen aan een betere wereld.
Voka is zich bewust van de belangrijke bijdrage die bedrijven kunnen leveren om de duurzame ontwikkelingsdoelstellingen te realiseren. Om die reden riepen zij het VCDO-label in het leven: het Voka Charter voor Duurzaam Ondernemen. Dit label wordt toegekend aan bedrijven die zich actief inzetten en hun beleid erop toespitsen om de 17 ontwikkelingsdoelstellingen haalbaar te maken. Willemen Groep is trots dat het sinds 2017 dit label mag dragen. We communiceren dit ook naar de buitenwereld toe door dit label in onze e-mailhandtekening te tonen. Op die manier willen we al onze stakeholders op de hoogte stellen van de duurzame initiatieven waar je als bedrijf aan kan deelnemen, want uiteindelijk hebben we allemaal een verantwoordelijkheid bij te dragen aan de creatie van een betere wereld voor iedereen.
Volgende partners faciliteren mee ons MVO-beleid: