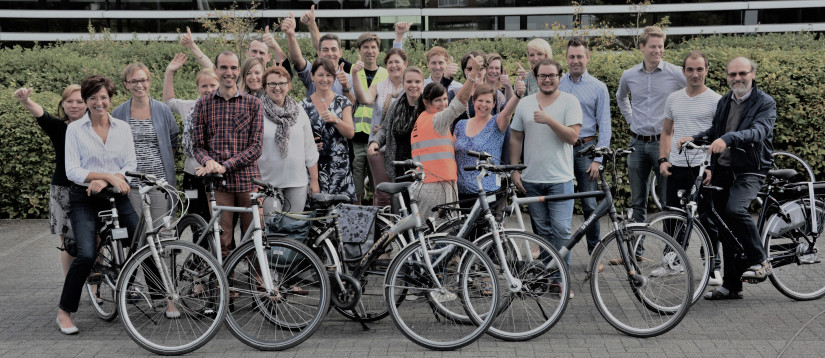 corporate social responsibility
Respect is one of WILLEMEN GROEP's company values. For this reason we believe it is important to take up our social responsibility as a group. We translate this into respect for People, Society and the Environment. Below are some examples of how Willemen Groep commits itself to its social responsibility. 
Our people are our most important capital. They represent the company and promote our values. This is why the creation of a pleasant workplace for our people is so high on our agenda. We do this in various ways:
• Health:  the use of drugs, and with this we mean both legal and illegal stimulants, is not compatible with our company's mission. Willemen Groep's 'Drugsbeleid Reactiewijzer' (Drugs policy guidelines) should be seen in this light.  When an employee has problems, the group provides discrete and diversified support. An intervention plan has been drawn up aimed at prevention, detection, support and possibly penalisation. A number of our company sites have been completely smoke-free since July 2017.
• Corporate social recruitment:  on the one hand, by actively investing in reactivating the long-term unemployed, which is why  a number of our companies are certified as deployment firms. And on the other hand, by believing a non-discrimination hiring policy goes without saying.  The best candidate gets the job, regardless of sex, race, ethnic descent, religion or conviction, disability, age or sexual orientation.
• GO FOR ZERO: safety is a top priority for Willemen Groep. Not just in the performance of the job, but also during your commute from and to work. Every accident is one too many, which is why the group invests heavily in training days and traffic safety campaigns.
 
Willemen Groep wants to build a better world and where better than to start with ourselves. We believe it is important to support associations and initiatives that promote the same purpose. Below are some examples.
• Entrepreneurs for Entrepreneurs: we have contributed to a sustainable collaboration with the South for years through the support of this organisation. And have thus contributed to a better water management in developing countries, among other things.  Willemen Groep is currently supporting a project in the East-Congolese Ituri.  The aim of the project is to provide high-quality drinking water to 10,000 new people by 2018 and to offer clean sanitary infrastructure to 1,000 students. Furthermore, 10 new water kiosks will be built, which will considerably raise the quality of the water supply and ultimately improve the local population's health.
• Cedric Willemen Award: an annual award in memory of Cedric Willemen awarded to promising AV artists. The winner receives an amount of EUR 2,500 and is supported by Mechelen-based Arts centre nOna. The aim of the award is to encourage young talent and to offer them an opportunity to develop further.
• Local initiatives: Willemen Groep's roots are in Mechelen. This is why we find it important to support initiatives that will help turn Mechelen into a better city. Through partnerships, the group supports associations and cultural events in the city, as well as a number of sports clubs.
• Sustainable Development Goals: towards the end of 2015, 193 world leaders supported the Sustainable Development Summit of the United Nations. The centrepiece of that agreement is a set of 17 sustainable development goals that need to be achieved by 2030. Willemen Groep contributed to the design of the Belgian chapter of the goals and was one of the first companies to accept this engagement. Our achievements have received a positive evaluation and we were rewarded with the Voka Sustainable Business Charter (VCDO). Sustainable business is one of the spearheads of the group's policy and we will continue to focus on this.
"We believe it is our responsibility to contribute to a sustainable, qualitative society and world through our professional endeavours."
Care for the environment is a responsibility every individual, company and society as a whole needs to assume. Willemen Groep also wants to contribute by helping to build a liveable world for future generations. The group's policy is aimed at controlling and reducing the effect of our activities on the environment. Below is a list of some of our initiatives.
• Environmental management:  a number of years ago Willemen Groep was one of the first construction companies with an ISO 14001 certificate. We believe it is our responsibility to contribute to a sustainable, qualitative society and world through our professional endeavours.
• Bee hives: bee populations in our region are not doing well, whereas the honeybee is essential for our ecosystem. This is why we installed two bee hives at our head office.
• Hybrid battery packs: Willemen Groep uses hybrid battery packs at many of its sites. Hybrid battery packs are standard generators that store their excess energy in an external battery. This battery continuously releases electricity and only starts the generator in case of high demand. The consequence is not only increased energy efficiency, but also lower CO2 emissions, less soot formation and no unnecessary noise pollution by the generator.
• Own asphalt production plants: through Aswebo and Aannemingen Van Wellen, the group has its own asphalt production plants which are also COPRO-certified. The in-company asphalt mixing installations allow the group to lay down the requirements for its installations. This ensures our installations meet the strictest requirements in terms of noise, odour nuisance, soil and air emissions.
• Mobility: Willemen Groep encourages its employees to come to work by bike as much as possible. The group has taken part in the Car Free Day since the start and makes company bicycles freely available to employees. Employees who take the bike to work receive a bicycle allowance, even if they have a company car. And since a few years the list of company cars has eco-friendly alternatives in every category.