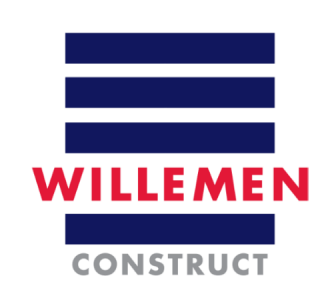 BIM
Willemen Construct is a BIM pioneer. We have been committed to this new way of collaborating, which is based on openness and trust, since 2014. The willingness to share knowledge instead of shielding it is essential in a BIM collaboration. This allows us to achieve our common goal together with the other project partners, namely, to deliver a project with maximum added value to the customer.
For Willemen Construct, the BIM acronym stands for Building Information Management. BIM has long since transcended mere 3D design. We consider the BIM model to be a database that collects the geometry, data, and structure of building components. In other words, the BIM model is a centralised system for bringing together relevant information.
BIM manages the links between all aspects of a project and at the same time ensures that any changes are processed in all of the relevant places. The stresses in BIM vary depending on the type of collaboration (construction team, public or private tender notice). However, the common denominator is that BIM always achieves an improvement of the construction process.
 
Open BIM
We deliberately opted for the Open BIM principle to ensure we achieve a smooth collaboration as intended. This universal approach allows for each construction partner to use their own software for the layout of their building model.
Full BIM
We drew up the Full BIM principle so we could structure the work in BIM. Currently, we distinguish between 40 standard functionalities ranging from calculation and quality control over recess coordination to safety analysis. This approach allows us to deliver better construction results, assist the client in their decision-making process more effectively, optimise communications with the design team, and improve the quality of the execution.
BIM refeRENCES
In recent years, Willemen Construct has gained a lot of expertise using BIM. Today, BIM is so well established that we use it on most of the projects we implement regardless of whether it is a classic tender notice or a design and build formula.