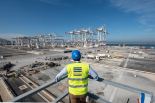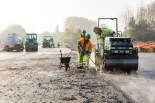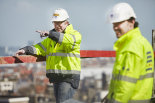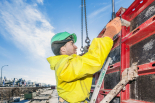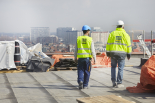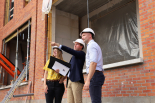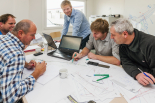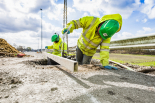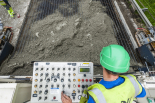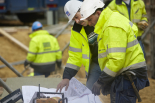 To be able to build, we need people. And by people, we mean our 2,200 employees, who give the best of themselves to our group companies and service centres day after day, as well as the many thousands of people employed by our subcontractors and other construction partners. Each and every one of them is a part of our family of builders.
Over the past few years, we have also gained a few family members abroad. From our branch office in Casablanca, more than 150 colleagues are realising a large volume of projects in Morocco, mainly in industrial construction. Over the course of 2021, we were also active at multiple locations in our neighbouring countries: the Netherlands, Germany and Luxembourg. Our branch office in Luxembourg now has around 100 employees.
We believe that even today, even with the labour market shortages we face, we can continue to make a difference as a family construction group that operates on the basis of shared values. We can do so not only through the projects and growth opportunities we offer, but also because we offer a home. We also try to give back to society: we are more than happy to take our responsibility to work on long-term growth in this area together with other partners.
Are you passionate about the construction industry and would you like to show the rest of the world what we are capable of? Then be sure to check out our vacancies.
Our greatest asset is the motivated employees who manage our construction projects perfectly. Their satisfaction is our highest quality label.


SAFE CONSTRUCTION
Our safety ambition is to make sure that everyone — our own employees and our subcontractors, suppliers and partners — comes home safely every single day. Every accident is one too many. That's why we are doing everything we can to avoid (occupational) accidents under the 'Go for Zero', 'On The Road To Safety' (BL Infrastructure) and 'Safe Forward' mottos.
We operate on the basis of an integrated Quality, Safety and Environmental (QSE) policy that extends across all of our companies. Thanks to the option to report unsafe situations in our QSE app, we are able to respond quickly. After all, every accident or near miss must be reported.
Wellbeing
We want to help our employees stay healthy, as health and happiness go hand in hand. In doing so, we are focusing on healthy food options at the office and on our sites, we are encouraging sports activities and we pay attention to ergonomics, including when working from home. We help our employees keep an eye on their mental health and find the perfect balance between work and leisure. We try to make sure that workloads remain manageable. Where possible, we allow our employees to schedule their work flexibly. We offer extensive possibilities to work independently of time and place. And finally, we believe it is highly important that everyone can be themselves at our Group. After all, that's a condition for wellbeing too!
HEALTHY EMPLOYEES
We genuinely value the health of our employees. Staff over 50, for example, are offered the option of comprehensive medical check-ups to detect any ailments at the earliest possible stage, and we assist smokers in the process of quitting. In fact, all of our company sites are completely smoke-free, both indoors and out. We encourage our employees to exercise more, including by offering a bicycle allowance as well as showers and locker rooms. As of 2019, we are also developing a programme to actively encourage them to exercise (together). Two great examples are our BOUWRUN and our BATIRUN. 
WORKPLACE DIVERSITY
Diversity in the workplace brings in different perspectives and stimulates innovation, which leads to competitive advantages. Teams with a certain level of diversity tend to perform better. Our Group has around 2,200 employees from 29 different countries in all corners of the world. Our youngest employee is 19, and our oldest is 72.
Employee diversity is important, not just in terms of differences in sex and culture, but also in terms of age and knowledge. Just like in every family, everyone at our family-run construction group is different. And that diversity is an asset we can put to good use as a company. Differences in culture, age, sex and academical or vocational education offer different perspectives on matters and on our way of working. That way, our employees form a strong collective that is able to deal with the same situation in a number of different ways.
Connectedness
We view ourselves as one big family, and we try to make sure everyone experiences that sense of connectedness through our internal communication and activities (which, regrettably, had to be scaled down a little in 2021). We don't just seek to foster connectedness within our companies or their business lines, but between our business lines too. After all, everyone will be better off as a result!
Wings helps our young employees integrate better and more quickly and allows them to expand their network beyond their department or the company itself. This improves their growth potential within the Group.


growth
Willemen Groep has to be an attractive place to work. For that reason, we are committed to a motivational staff policy that involves our employees as much as possible in shaping and giving meaning to their roles. We realise that jobs evolve, and that employees have to grow accordingly. Openness on the part of every individual to new trends and personal and organisational flexibility are an essential element in this.  
(ADVANCED) CONSTRUCTION MANAGEMENT MASTERCLASS
A company can only grow if its employees grow along with it. For that reason, we successfully founded the Willemen Academy as an internal training entity more than ten years ago. Since then, our Construction Management Masterclass has offered high-quality training programmes to our project managers and site-supporting engineering staff. Construction site workers and road workers receive training on workrelated topics during the annual training day, with a focus on safe working.
Wings
The networking group Willemen Intercompany Network for a Great Start — or Wings, for short — helps our young employees integrate better and more quickly and allows them to expand their network beyond their department or the company itself. This improves their growth potential within the Group. In other words, Wings helps our young employees fly high.
Interested in being part of our team? Check out our job openings.
Find the job that's just right for you using our CAREER ORIENTATION TOOL. This tool was specially developed to discover and orient architectural talents. Take the test and discover which three jobs within Willemen Groep suit you best!